Summer is coming! Why do we have to go anywhere so far but not nearby Mekong Delta area? Đồng Tháp is a lovely place in the list! There are many interesting destinations here. Let's see!
1. Xẻo Quýt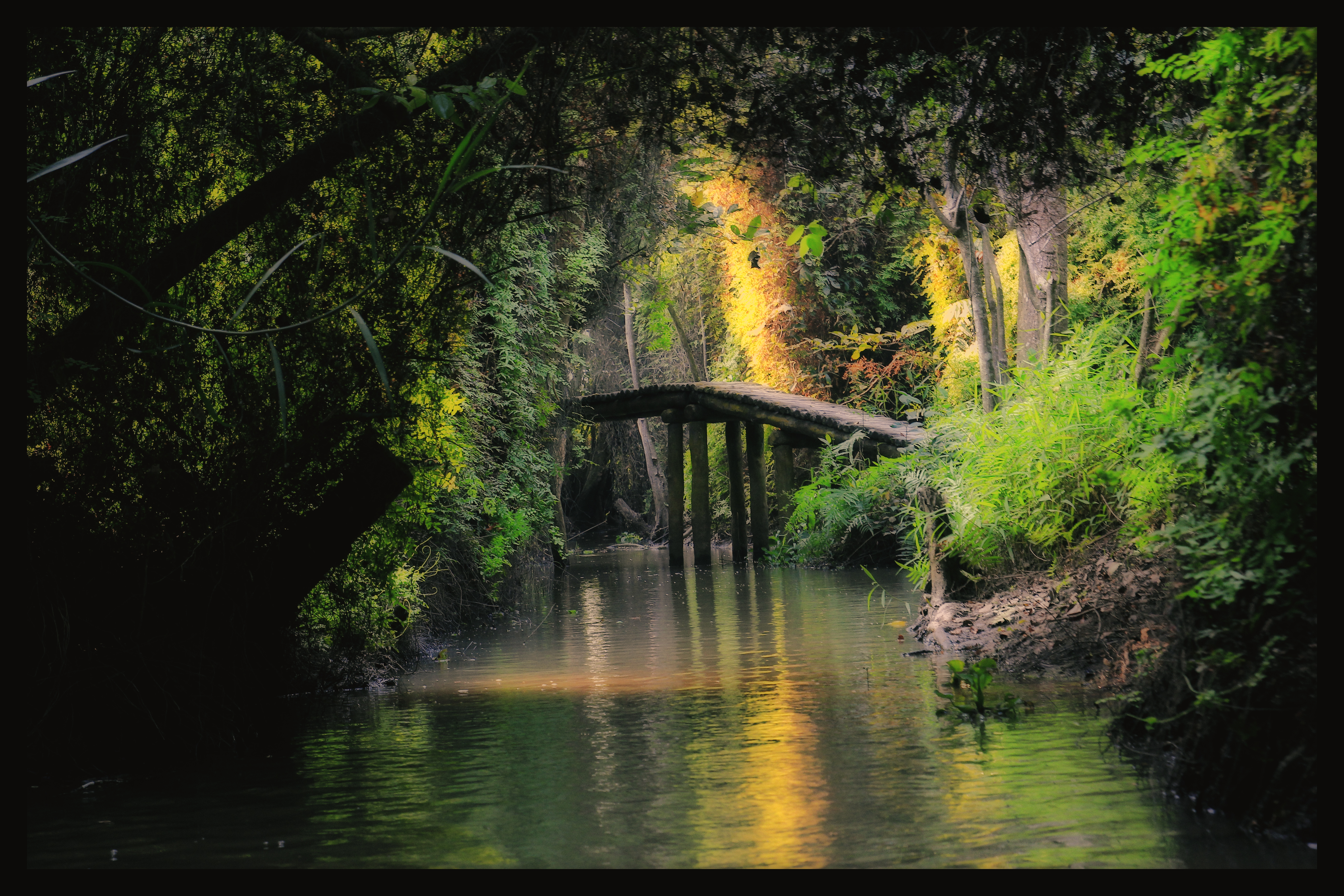 Credit to DoanTien
Xeo Quyt relic has an area of 50ha, in which, 20ha is covered of mangrove forests. Xeo Quyt is situated on the territory of two communes: My Long and My Hiep, which is about over 30km from by Cao Lanh Town. During anti-American resistance war, it was an army base, nowadays, Xeo Quyt becomes a famous tourism destination for domestic and foreign tourists. Among wild nature of Dong Thap Muoi's characteristic ecological system, you can hear clearly the sound of paddle stirring water, fish whisking water and wind whispering through branches and leaves. When inhaling fresh air into rib-cage, it seems to wash soon the city's dust. An interesting point when visitors travel to Xeo Quyt is that they can experience "sit on local boats and remove fishing net", pendulous siting on local boat along mangrove forest to lift fishing net to catch fish, shrimp, ... obtained products will be processed by the local to be many specialties such as fried catfish with mango sauce, steamed edible snail ...
2. Thap Muoi lotus field
Credit to Quan Nguyen Minh
Thap Muoi lotus field is located in My Hoa Commune of Thap Muoi District, about 40km from Cao Lanh City, lotus field bring guests the primitive and rustic feel of nature, this is where travelers can leave all the stress and burden of city life to enjoy peaceful moments. A highlight of Dong Sen Thap Muoi (Thap Muoi's lotus field) is its pure environment where tourists can join in numerous activities like sailing a boat to pick lotuses and going fishing, renting traditional clothes and leaf hats for taking nice pictures. After that, it is highly recommended to try specialities made of Lotus like lotus sticky rice, lotus root salad with chicken, grilled snake-head fish on lotus leaf…
3. Phuoc Kien Pagoda
Credit to Nhím ướt
The giant lotuses that grow in the ancient pagoda of Phuoc Kien in the southern province of Dong Thap have leaves up to 3m wide and can carry a grown man weighing up to 80kg. There are many kinds of lotuses in the ponds but the most special is the one with big, thick, spiny leaves with diameters from 1.5 - 2 meters. Lotus stems are as big as adult wrists, with leaf edges of 2cm - 5cm. Located deep in Chau Thanh District, the pagoda is small, concealing itself under a tree canopy. Just ask the way to the Lotus Pagoda, and you will be carefully guided by the locals.
4. Lai Vung Tangerine Garden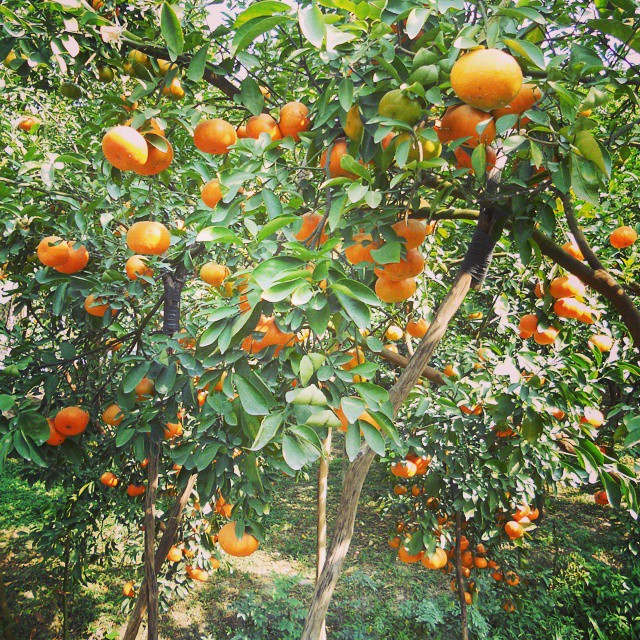 Credit to Viet Nguyen Duc
Endowed with favorable natural conditions, Long Hau commune in Lai Vung has been known as the kingdom of tangerine in the Mekong Delta.When the Lunar New Year (Tet) holiday is drawing near, taking a trip to Lai Vung area in the Mekong Delta province of Dong Thap is highly recommended because you will get the chance to collect this special fruit.
Gáo Giồng Eco-tourism Park
Credit to phoi91
With a beautiful and charming landscape, Gao Giong is said to be defining the meaning of peaceful scenery.The green oasis-like area is divided into four zones with over 70km of canals. The mangrove forest in Gao Giong creates a wild beauty. This is the habitat of dozens of water birds, such as whistling ducks, wild ducks, and tens of thousands of white egrets, making the area the largest habitat of white egrets in Dong Thap Muoi of Plain of Reeds. Visitors can go camping, visit the mangrove forests by boat, go fishing or go bird watching. Visitors should not miss local specialties like grilled snakehead fish with lotus sprouts, honey wine, and Dien Dien flower soup.
6. Huynh Thuy Le Ancient House
Credit to Di Nguyen
Huynh Thuy Le Ancient House is the beautiful courtyard house with a harmonious combination among of Southern Vietnamese, French and Chinese architectural styles. The house was built in 1895, situated in the bank of Tien River at 225A Nguyen Hue Street, Sa Dec Town, Dong Thap Province. The locals around Huynh Thuy Le Ancient House have get used to with the image of numerous local and international tourists come to visit the house every day.
7. Tràm Chim national park
Tam Khuong
Spreading over an area of 7 villages (Tan Cong Sinh, Phu Duc, Phu Tho, Phu Thanh A, Phu Thanh B, Phu Hiep) and Tram Chim town in Tam Nong District, Tram Chim National Park is a miniature of the Dong Thap Muoi region, featuring a broad and diverse range of animals and plants in the Southern Vietnam. The stunning landscapes are awash with tall grass, flat, waterlogged land, and over 230 different aquatic birds swooping and wheeling across the park's 7,000 hectares. Visitors trace the watery avenues and flooded forests of this picturesque Delta scene by boat, spotting everything from an abundance of slender-necked storks to the vibrant yellow Asian golden weaver to towering sarus cranes, whose bright red feathers and jaw-dropping wingspan make them the stars of the park.
8. Sa Dec Flower Village
Credit to Nguyen vietdung
For over 100 years, Sa Dec Flower Village located near the Tien River has been well known as the land of thousands of varieties of exotic flowers and strange plants. Located in Tan Qui Dong Commune, Sa Dec Town, Dong Thap Province, Mekong delta. The garden occupies 60 hectares with 3,600 laborers. When Spring comes, Sa Dec bonsai village also starts its festival. Cars from everywhere come in crowds. All type of flowers and bonsai hasten to go to Ho Chi Minh City and neighboring provinces to boast their beauty in Tet Holiday. Besides watching local people taking care of the gardens, taking photos is the most interesting activity here!
9. Phương Nam cultural tourism park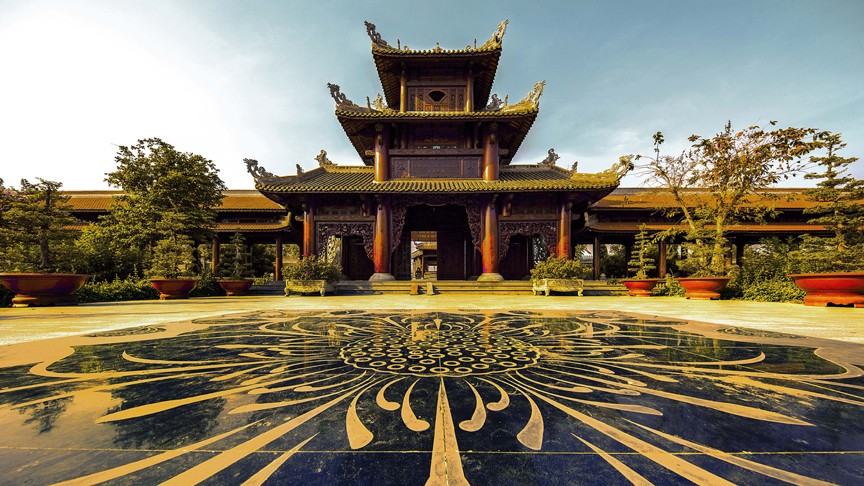 Credit to www.sggp.org.vn
This project was started construction on October 30, 2009 on an area of 17 hectares, located in Long Hung A commune, Lap Vo district, Dong Thap province. In particular, the highlight is Nam Phuong Linh Tu temple, a building built according to the old house - old architecture with the style of Hue traditional house, bearing the imprint of the Nguyen Dynasty. The work of honoring and commemorating 125 historical figures who have reclaimed land, opened realms, preserved and glorified the Southern lands. Nam Phuong Linh from an area of 509m². Nam Phuong Linh from 2 Vietnamese records: The first temple worshiped famous people in the process of opening, preserving and glorifying the land of the South; The temple has many of the largest and most famous bronze statues of characters who had the time to open the land of the South. In addition to serving customers visiting, sightseeing, incense offering tribute to the ancestors, there are also tourism activities: re-enactment of wet rice production, linking with neighboring gardeners to serve the needs Tour of visitors, organizing folk games, cuisine, resort and specialty products, souvenirs.
Proofreader: Mr. Alex Curtis, Civil Servant UK
Read the original article at: https://www.facebook.com/permalink.php?story_fbid=925245380933271&id=259425520848597&__tn__=K-R